Shopping Cart
Your Cart is Empty
There was an error with PayPal
Click here to try again
Thank you for your business!
You should be receiving an order confirmation from Paypal shortly.
Exit Shopping Cart
Breastfeeding Specialist,

Mobile Lactation Services
Help With Breastfeeding is Just a Phone Call Away!
I'm a paragraph. Click once to begin entering your own content. You can change my font, size, line height, color and more by highlighting part of me and selecting the options from the toolbar.
| | |
| --- | --- |
| Posted on December 2, 2012 at 4:47 PM | |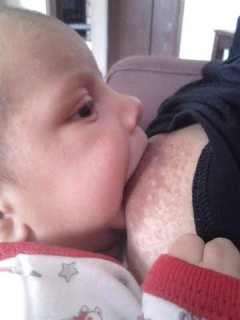 The Un-cut-able frenulum
A shortfrenulum or a tied tongue can present true challenges for a nursing mother;sore nipples, low milk supply, a fussy gassy baby and even mastitis. Somefrenulum's can be so short that they are immediately noticeable almost at birth.The tongue never really comes out past the lips and it curves into a U or Vshape whenever the infant cries. For this family the answer is obvious, thedoctor says "this infant needs a frenotomy." A very simple procedure where thefrenulum is clipped to give the tongue more mobility. Unfortunately, someinfants have a frenulum that is not so short that it needs to be cut, but notso long that it allows for comfortable breastfeeding. It is not just importanthow short the frenulum is but also where it attaches to the bottom of thetongue, close to the base of the tongue or closer to the tip.  The problem with this is that a doctor doesnot cut frenulums just because it hurts to breastfeed. Frenulums are cut toprevent speech & dental problems later in life. Therefore this family is ina difficult situation. Though this is not considered a medical emergency, itwill present special implications for breastfeeding. For some they end up pumpingonly, supplementing or they stop breastfeeding altogether.
The 1step is recognizing that the frenulum is a little short. A mother may not knowthat the frenulum is short and she believes that she is doing something wrong.Especially since the doctor may have already told her that the frenulum wasn'tshort. It is usually a little later when these moms figure out something justisn't right. All the pillows and positioning are still not working and their breastare still sore.  Nipple shields can helpbut are a temporary solution, they reduce milk transfer and for some mothers,it still hurts even with a nipple shield on. Once the determination is madethat the frenulum is a little short, she can turn her efforts to accommodatingit, instead of thinking it's her fault or that the baby doesn't want it. Thiscan reduce a lot of pressure on mom and point her in the right direction. Thedegree of breastfeeding difficulty maybe proportionate to the tightness of the frenulum.
It is commonto find that with a short frenulum one breast is sorer than the other. Thatbreastfeeding is more difficult on that one side. Positioning can be a key toolto finding comfort. Mom's position as well as the infant's position is really important.I find that the traditional cradle position and cross cradle positions are notalways the most comfortable for that sore side. Football, lying down, laid backbreastfeeding and a sitting up facing the breast position seemed to offer themost comfort. These infants work really hard to latch and often fall off thebreast frequently. Sucking is harder so they are more likely to nurse longer, fallasleep at the breast and wake still hungry. Therefore scheduling is really notrecommended.
It isimportant to target the middle of the tongue when latching, be very patient andremember,  touching the lips will promotethe rooting reflex which says open your mouth, but, to operate the sucklingreflex, the infant needs to have the nipple at least into the mouth about tothe middle of the tongue before he will suck. Think about it, if you put yourfinger in your mouth, you will have to stick it an inch or two in before you triggeryour brain to suck.  I also find that thetongue is often in the way instead of lying down, so remember to look for andwait for that target in the middle of the tongue. It is better to take the timeto get a good deep latch the first time instead of having to keep re-latching. Re-latchingfrustrates the infant and promotes nipple soreness. These infants also tend to bitedown a little on the nipple in an effort to hold on to it and not slide off thebreast. Again positioning, pillows, foot stools are all useful tools.
I wouldrecommend if breastfeeding is not going as well as planned for now pump to helpmaintain your supply. It is also important to help your breast heal. So continueto use your lanolin when needed. Expose the breast to fresh air to promote healing.When really sore a nipple shield can provide a barrier to reduce healing time.
The frenulummay give a little as the infant grows making breastfeeding more comfortable inthe later months.
Categories: Breastfeeding
/